Product
【Product Name】:
ZP33B rotary type tablet press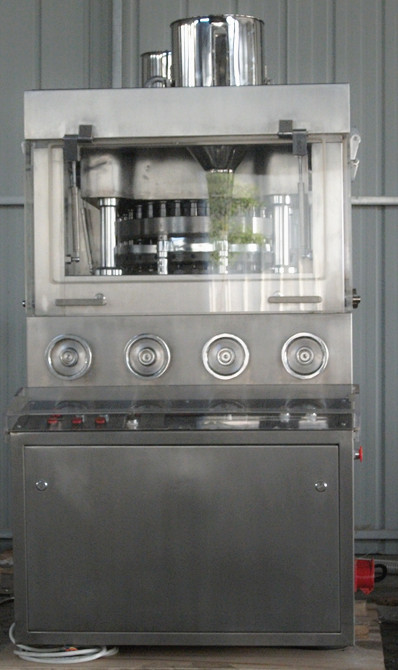 This machine is a dual-pressure automatic rotation, continuous tableting machines, all kinds of granular materials into tablets. It is mainly used in pharmaceutical industry and also the chemical, food, electronics and other industrial sectors.
1, the external casing is fully enclosed, made of stainless steel, the internal table with stainless steel turret face is specially treated to keep surface luster and prevent cross-contamination, in line with GMP requirements.
2, with a transparent glass doors that can be clearly observed for tablets, and can be fully opened, easy cleaning and maintenance.
3, all controllers and operating parts is reasonable. Frequency control, simple operation, smooth rotation, safe and accurate.
4, all of the transmission device, located inside the machine, clean the machine.
5, with a pre-pressure device, tableting effectively exclude air and increase the pressure of time.
6, the machine is equipped with an electromagnetic brake motors and other safety devices.
7, optional forced feeding device.
8, the pressure control system uses pressure sensors, so that the bottom machine without oil phenomenon, but clean and safe.
Model
ZP37B
ZP35B
ZP33B
Die number
37
35
33
Die type
ZP
The maximum principal stress(KN)
80
The maximum pre-pressure(KN)
10
Maximum tablet diameter(mm)
Round slices
13
Shaped piece
16
The maximum filling depth(mm)
15
The maximum sheet thickness(mm)
6
The maximum output(pcs/h)
168,000
160,000
151,200
Main motor power(kw)
4
Dimensions(mm)
1160×1070×1720
Weight
2100kg