Product
【Product Name】:
ZP33A, 35A large tablet press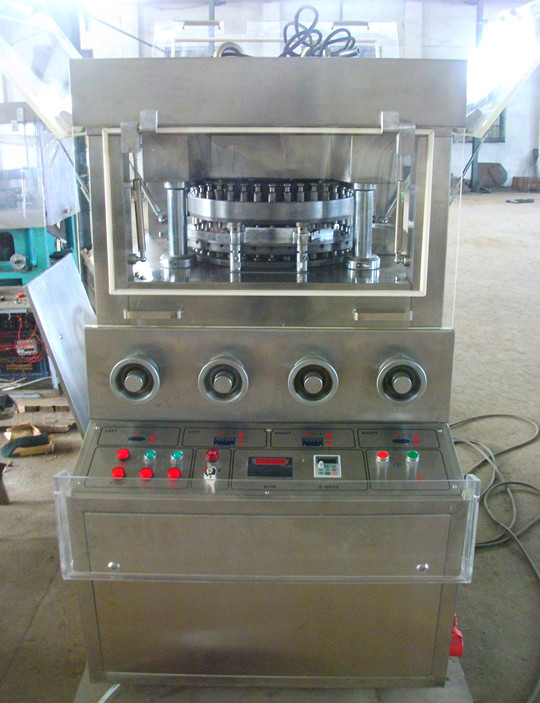 ZP33A, 35A, 37A rotary tablet press machine is mainly used in pharmaceutical tablet manufacturing industry, but also applies to electronic, chemical, food and other industrial sectors will granular material pressed into a circular diameter greater than 13mm, shaped and with text, symbols, graphics, automatic successive sheet production equipment. Pressing the sheet containing the amount of powder material(100 mesh or more) does not exceed 10% of the particles, the machine does not apply to semi-solid, moist particles of the low melting point material and non-hygroscopic powder particles tableting. Enclosing shield is fully Gua closed form, made of stainless steel, the internal table with stainless steel turret face is specially treated to keep the surface gloss and prevent cross-infection, in line with GMP requirements.
Doors fitted with transparent glass, can clearly observe the state of tablet, and can be opened, easy to clean and maintain.
Electrical frequency control device speed, easy operation, smooth rotation, safe and accurate.
All the drive devices inside the machine, keep the machine clean.
Hydraulic system design is reasonable, to ensure the stability of the hydraulic system.
Equipped with overload protection device, when the pressure overload, can automatically shut down.
The machine is equipped with an electromagnetic brake motors and other safety devices, the runtime can also speed and operation.
Dies can be common with ZP19, ZP33, ZP33B, ZP35 tablet.
The main technical parameters:
| | |
| --- | --- |
| Name | Indicators |
| Turntable die number(deputy) | 33,35,37 |
| Maximum working pressure(KN) | 70 |
| Maximum working diameter(mm) | 13 |
| Maximum tablet thickness(mm) | 6 |
| The maximum depth of fill(mm) | 15 |
| The maximum production capacity(ten thousand/h) | 14.5 |
| Turn after working diameter(mm) | 420 |
| Turntable speed(t/min) | 0-35 |
| The mode diameter(mm) | 26 |
| In the mold height(mm) | Twenty two |
| Upper and lower punch diameter | Twenty two |
| Upper and lower punch length | 115 |
| Overall dimensions(L * W * H) | 900 * 1200 * 1750 |
| Machine weight(kg) | 2000 |
| Main electric efficiency(kw) | 3 |